The Kitchen & Bath Industry Show (KBIS) is the largest show dedicated to kitchen and bath design in North America. KBIS co-locates with the NAHB International Builders Show (IBS) and the National Hardware Show (NHS), which make up Design & Construction Week. Including IBS crossover, the KBIS attracts over 30,000 industry professionals. See what the Kitchen & Bath Industry Show 2023 has in store for you.
The Kitchen & Bath Industry Show 2023 – when and where?
The KBIS has been an important part of the kitchen and bath industry for over five decades. It happens once a year. The KBIS is owned by the NKBA, National Kitchen & Bath Association. The interactive platform showcases the latest industry products, trends, and technologies. Since 2014, the KBIS has co-located with the International Builders' Show.
When is the Kitchen & Bath Industry Show? The date of the KBIS 2023 is January 31, 2023-February 2, 2023.
Trade show hours:
Tuesday, January 31: 9:00 am–5:00 pm
Wednesday, February 1: 9:00 am–5:00 pm
Thursday, February 2: 9:00 am–5:00 pm
Where is the Kitchen & Bath Industry Show? The venue is the North Hall and West Hall of the Las Vegas Convention Center, 3150 Paradise Rd, Las Vegas, NV 89109, the United States of America.
KBIS 2023 program
The KBIS program features events such as (the location is Next Stage N169):
Business Forecast: Tap into Futurist Thinking
Kitchen & Bath Catwalk
Sustainability is Good Business
Future Design Trends: Products Filling Your Cup: Wellness Design Starts with You
Design Therapy: Collaborations for the Future of Accessible Homes
Emerging Market: Designing for the Short-term Rental Market
Looking Ahead: K+B Challenges and Opportunities
Future Design Trends: Space
Holistic Design: The Fine Line
NKBA Global Connect: Trends and Business Practices from Around the World
KBIS Disruptor: The Metaverse is Real
Show areas and features:
Global Connect
ICFF Pavilion
German Pavilion (North Hall)
Kickstarter Zone (North Hall)
DCW Outdoor Living Pavilion (West Hall)
Learn more and make connections at the VFTI, NKBA's Voices from the Industry at KBIS. It is a program full of in-person workshops, hybrid conferences, and on-demand sessions. You can choose a track of your interest, such as Building/Remodeling, Customer Service, Design, Grow Your Business, K&B Specialty Training, and Management.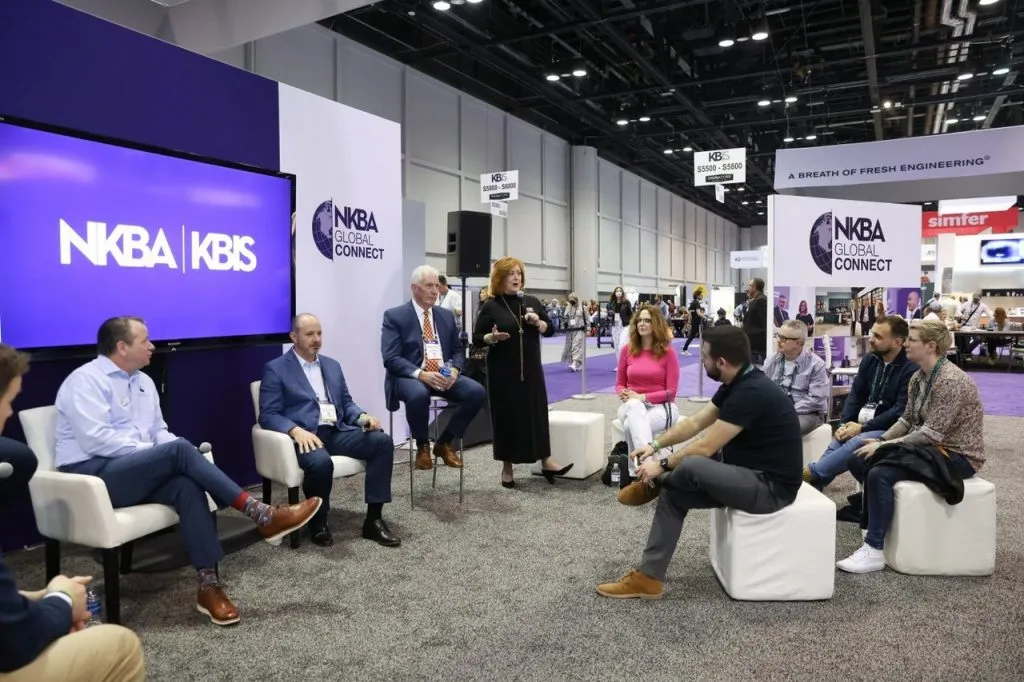 The Kitchen & Bath Industry Show 2023 exhibitor list
As of now, there are over 500 exhibitors in the index. The majority of vendors are from the US. KBIS vendors specialize in:
accessories
ADA compliance
appliances
associations
building materials and systems/maintenance
business & design services
cabinetry
countertops
flooring/floor coverings
general
green design
hardware
healthy home/wellness
kitchen & bath technology
lighting
luxury
outdoor living
plumbing fixtures
publications
universal design/aging in place
vanities
ventilation
wall coverings
water filtration
Products showcased at the KBIS 2023:
cabinets
countertops
hardware tools
floor coverings
building materials
plumbing equipment 
sanitary ware
natural stone products
lighting solutions
home appliances
tiles
cooking equipment
decorative themes
wooden products
glass items
furniture
power systems
electrical appliances
outdoor living solutions
craft items
toilets
sinks
metal products
expert business services
and more
25 exhibitors are from Mainland China, 16 in the North Hall, and 9 in the West Hall. Most of them are new to the KBIS. Chinese exhibitors specialize in the production of appliances, consumer electronics, plumbing fixtures, bathroom & kitchen accessories, and functional hardware.
One hardware vendor from Hong Kong is in West Hall. Three exhibitors are from Taiwan (one in the North Hall, two in the West Hall), concentrating on bathroom & kitchen accessories.
Make an informed business decision and verify your potential partner from Asia before developing a partnership.
KBIS 2023 Fairground map and hall plan
Who can attend the Kitchen & Bath Industry Show?
The Kitchen & Bath Industry Show is open to industry professionals only. The attendees of KBIS are:
cabinet shops
decorative plumbing & hardware professionals
independent manufacturers' representatives
consultants
fabricators
qualified kitchen and bath designers
interior designers
online retailers
dealers
independent retailers
architects
distributors
showrooms
wholesalers
custom builders
remodelers and installers
and other trade professionals
Register for the KBIS 2023 
Since KBIS is held at the same time and place as IBS and NHS, one pass provides access to all halls. Registration also grants access to other co-dated events, the Las Vegas Winter Market and the International Surface Event (TISE). Attendees can register here or onsite.
Attendee registration hours:
Monday, January 30: 7:00 am–7:30 pm
Tuesday, January 31: 7:00 am–5:00 pm
Wednesday, February 1: 7:30 am–5:00 pm
Thursday, February 2: 7:30 am–5:00 pm
Registration counter locations:
Silver Lot Tent across from Central Hall
Meeting Room 104, West Hall
If you are a US registrant registered by December 16, 2022, you will receive your badge in the mail. International registrants can pick up their badges at the registration counters onsite.
How much does it cost to attend the Kitchen & Bath Industry Show 2023? The price of KBIS 2023 Registration Packages varies depending on the registrant type and the date of purchase:
Regular Rates, December 10 – January 28: free up to $1225
Onsite Rates, January 29 – February 2: free up to $1350
How to get to the KBIS 2023 in Las Vegas?
The KBIS 2023 takes place in the North Hall and the West Hall of the Las Vegas Convention Center.
Take advantage of the free and fast LVCC on-campus transportation, Vegas Loop.
Monorail is a convenient mode of transportation that can take you to the KBIS. Register at KBIS and enjoy discounted Monorail tickets.
Most KBIS, NHS, and IBS hotels will be connected with the Las Vegas Convention Center (LVCC) by hotel shuttles, January 31 – February 2, 6:30 am–6:00 pm.
Deuce is Las Vegas public transportation. It runs daily and stops at Las Vegas Convention Center.
Since it is impossible to hail a taxi on the street in Las Vegas, you should use a hotel taxi service or download Uber/Lyft.
Harry Reid International Airport is located 3.5 miles from the LVCC. You can rent a car or use a taxi service. It takes about 10 minutes by car to reach the convention center.
Kitchen & Bath Industry Trade Show 2023 – connect with residential design and construction pros
The NKBA is the global connector of the kitchen and bath industry. Its Kitchen & Bath Industry Trade Show 2023 takes place from January 31 to February 2 in Las Vegas.
To plan your show experience and stay up to date with the trade fair, download the KBIS 2023 app in Apple or Android App store.
KBIS badges are honored at National Hardware Show. ExamineChina will be in the South Hall, Stand SL10022. Come and visit us!
Images: KBIS