Canton Fair, also known as the China Import and Export Fair, is China's biggest, best-known sourcing fair. It is held twice a year in Guangzhou (Canton), attracting over 200,000 visitors per session from over 200 countries and regions. In our complete guide to Canton Fair, we answer the most frequently asked questions about the trade show.
A complete guide to Canton Fair
Where is Canton Fair held?
Canton Fair (广交会 in Chinese) is held in China Import and Export Fair (Pazhou) Complex in Guangzhou, Guangdong Province in South China. The complex is one of the biggest in Asia and accommodates over 60,000 booths.
Canton Fair address: Pazhou Complex, Yuejiangzhong Road 382, Haizhu, Guangzhou, Guangdong, China
Official Canton Fair website: cantonfair.org.cn/en-US
Canton Fair dates and phases
Canton Fair is split into two sessions, spring and fall. Each Canton Fair is divided into three separate phases (six phases a year in total). Each phase last several days and is dedicated to different industries. Before you set out to China to attend Canton Fair, find out which phase is the best for you.
Canton Fair Phase 1
Canton Fair Phase 1 takes place on April 15-19 and October 15-19. It focuses on:
electronics & household electrical appliances
vehicles & spare parts
machinery
hardware & tools
chemical products
new energy resources.
Read more about Canton Fair Phase 1.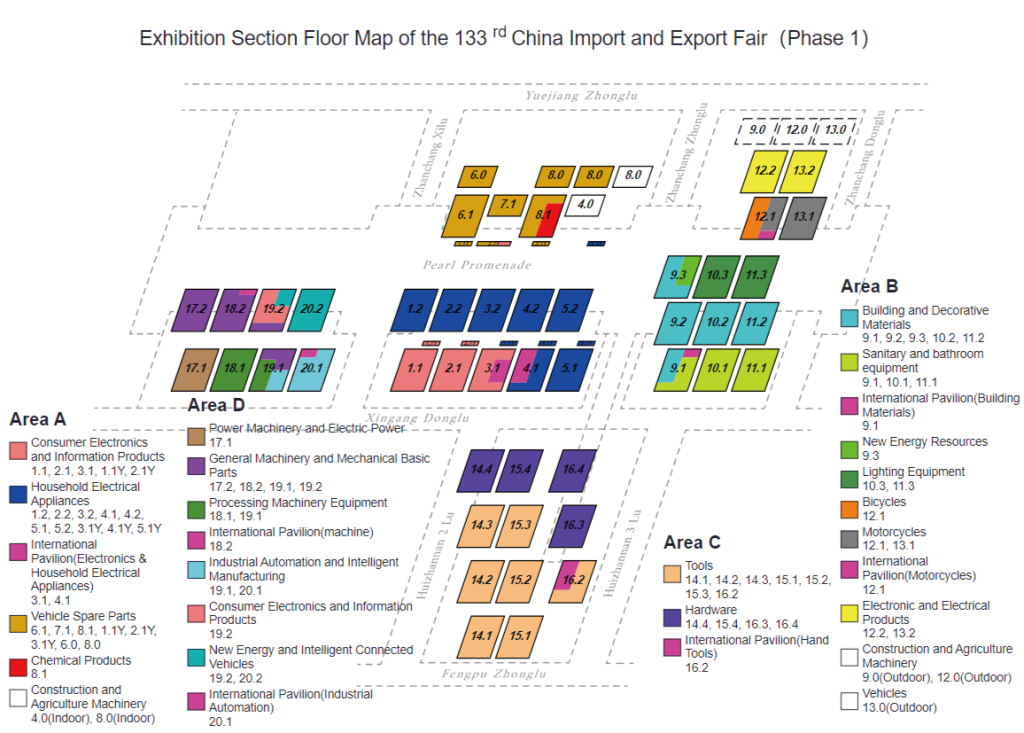 Canton Fair Phase 2
Canton Fair Phase 2 is on April 23-27 and October 23-27. The main product groups showcased in the second phase are:
building materials
consumer goods
gifts
home decorations
furniture.
We have written about Canton Fair Phase 2 in detail.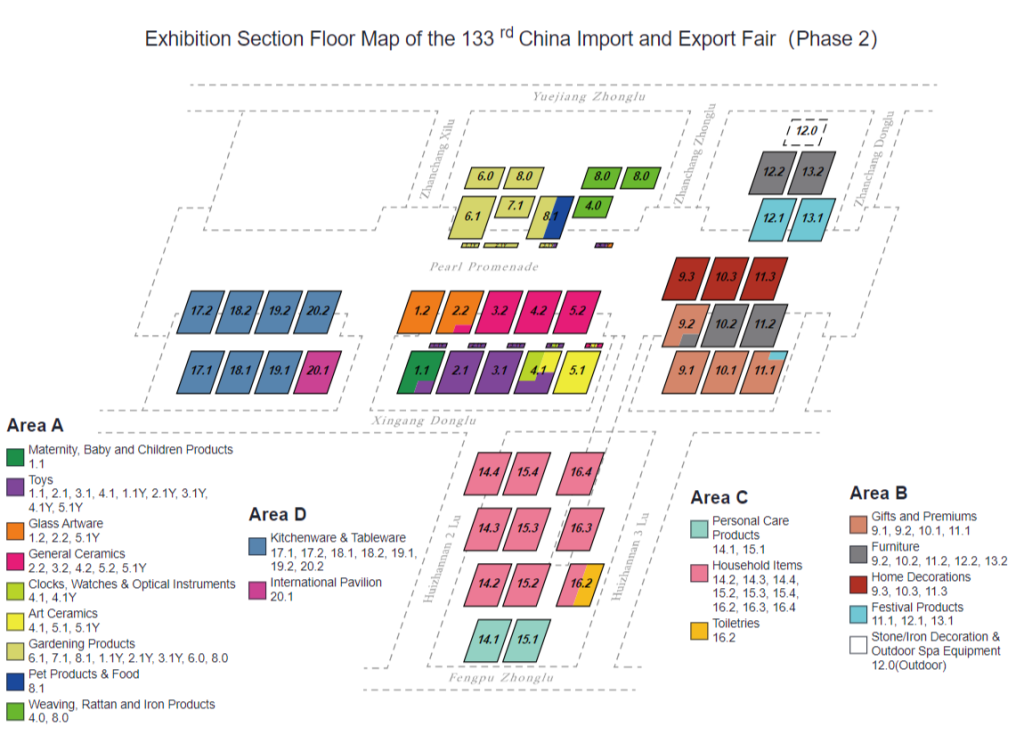 Canton Fair Phase 3
The third and last phase of Canton Fair takes place on May 1-5 and October 31-November 4.
toys
textiles & garments
shoes
office supplies, cases & bags, and recreation products
medicines, medical devices, and health products
food.
We have covered all Canton Fair Phase 3 product categories.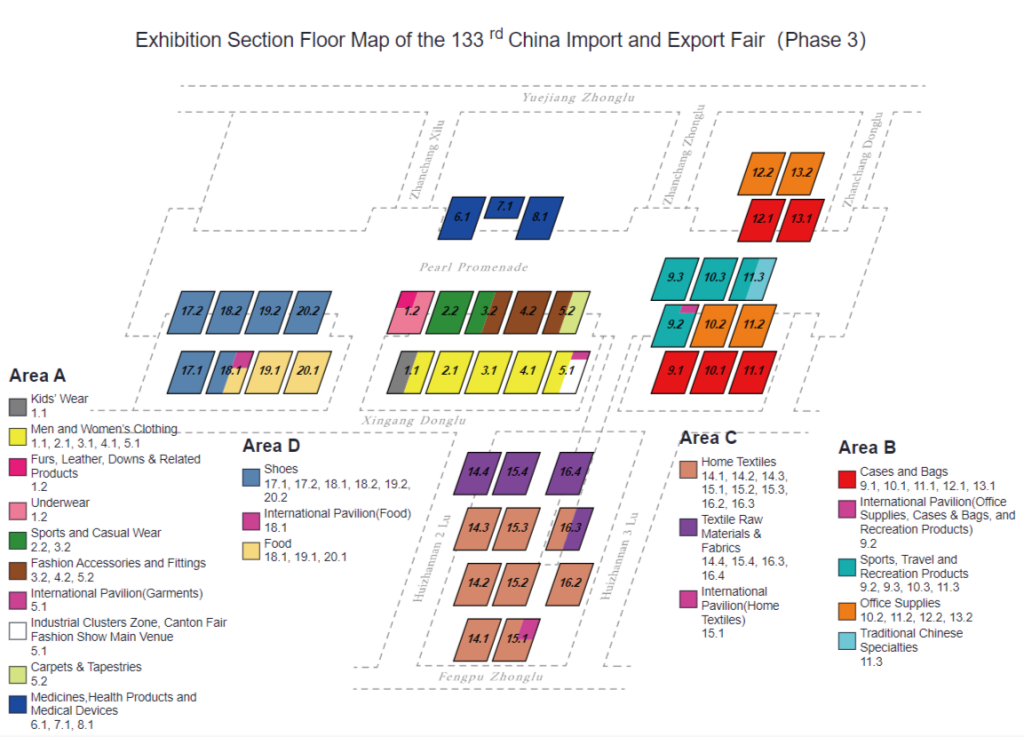 You can check the current maps here.
Canton Fair opening hours
Canton Fair is typically open 9 am-6 pm, though it varies. We recommend registering in advance to avoid long lines. If you pre-register online, the entrance is free. The registration process can take 2-3 hours more on-site.
Register for Canton Fair
Invitation for visa application
Most foreigners have to get a visa to get to China. As an overseas buyer, you must get an invitation for your visa. Apply for an invitation via:
Buyer e-service tool (BEST)
Canton Fair Call Centre, CFTC
Canton Fair Hong Kong Representative Office
the Economic & Commercial Office of the Embassy (Consulate General) of the PRC in your country
Chinese foreign trade enterprise you cooperate with
CFTC's Global Cooperative Partners.
How to get a visa for Canton Fair?
To apply for a Chinese visa, contact your country's Embassy (Consulate General) of the PRC. Next, register for Canton Fair and badge if you do not have one from previous sessions.
How to get a Canton Fair badge?
To enter the Canton Fair, you must have an ID badge.
Online application
To apply for Buyer Badge, visit the Buyer e-service tool, and choose "Pre-application for Buyer Badge." First Canton Fair Overseas Buyer Badge is free of charge and valid for multiple sessions. Pre-application saves you time and hassle during the Canton Fair.
Pre-registration for a Canton Fair session
Pre-registration service is available at appointed hotels and in Canton Fair Complex's Buyers' Registration Office.
Complete the pre-registration
Submit required documents
Get pre-registration code
Show the code on-site
Get your Buyer Badge
How to get to Canton Fair? From Baiyun Int'l Airport
The Canton Fair complex is located in the southern part of Guangzhou, with easy access from Baiyun International Airport by taxi and metro (subway). If you arrive by car or shuttle bus, bear in mind that the area around the complex is quite congested. If your hotel has easy access to the local metro, we advise using it.
By bus to Canton Complex
Guangzhou Airport Express offers a special direct shuttle bus service between Guangzhou Baiyun Airport and Canton Fair Complex. The bus departs every 30 minutes, and the duration is about 1 hour.
By metro to Canton Fair
Get on line 3 (North extended line) at Jichang Nan Station to Tiyu Xi Station.
Transfer to line 3 at Tiyu Xi Station to Kecun Station.
Transfer to line 8 at Kecun Station towards Washengwei to Xingang Dong Station (Area A of Canton Fair Complex) or Pazhou Station (Area B & C of Canton Fair Complex). Get off at the Pazhou Station via exits A, B, or C, or Xingang Dong via exit A.
By taxi to Pazhou Complex
Book a driver or tell the taxi driver "Canton Fair," "Pazhou," or "广交会" in Chinese. It takes about 1 hour by taxi from the airport to the complex.
China Canton Fair Map
It is easy to get around once you enter the Pazhou Exhibition Complex. There are plenty of shuttle buses, English-speaking staff to help you out, and information points. It is a good idea to have a map of the complex on hand.
Accommodation during Canton Fair
If you attend Canton Fair, you can choose from many partner top hotels in Guangzhou. These hotels often provide Canton Fair badges and transportation to the tradeshow per request.
Hotels recommended by the organizer of the Canton Fair:
Haizhu District
The Westin Pazhou ☆☆☆☆☆
InterContinential Hotels & Resorts ☆☆☆☆☆
Shangri-La Hotel, Guangzhou ☆☆☆☆☆
Langham Place, Guangzhou ☆☆☆☆☆
Guangzhou Shengwu Island the Mulian Hotel ☆☆☆☆☆
The Xanadu Guangzhou ☆☆☆☆☆
La Yarda Hotel Guangzhou ☆☆☆☆
Liwan District
Tianhe District
Guangzhou Estandon Hotel ☆☆☆☆
Mandarin Oriental Guangzhou ☆☆☆☆☆
Soluxe Hotel Guangzhou ☆☆☆☆☆
Marriott Guangzhou Tianhe ☆☆☆☆☆
The Ritz-Carlton Guangzhou Hotel ☆☆☆☆☆
W Guangzhou ☆☆☆☆☆
Four Seasons Hotel Guangzhou ☆☆☆☆☆
Sofitel Guangzhou Sunrich ☆☆☆☆☆
Hilton Guangzhou Tianhe ☆☆☆☆☆
Yuexiu District
China Hotel ☆☆☆☆☆
Double Tree by Hilton Guangzhou ☆☆☆☆☆
Dongfang Hotel ☆☆☆☆☆
Zhujiang New Town
Baiyun District
Pullman Guangzhou Baiyun Airport ☆☆☆☆☆
Easeland Hotel Guangzhou ☆☆☆☆☆
Hilton Guangzhou Baiyun ☆☆☆☆☆
Huadu District
Crowne Plaza Guangzhou Huadu ☆☆☆☆☆
Panyu District
Xiaoguwei
Aloft Guangzhou University Park ☆☆☆☆☆
The booking can be made via Canton Fair International Travel Agency at 00860-89268105.
Is Canton Fair worth attending?
Importers from more than 200 countries and regions from all over the world attend to visit stands of 25,000 exhibitors from all over China and overseas. It is the "must-visit" trade show for almost every businessperson that sources from China. If you already import from China and are looking for new Chinese suppliers or just want to start your import business, it is the best fair to attend.
See how to get the best deals during Canton Fair as a buyer.